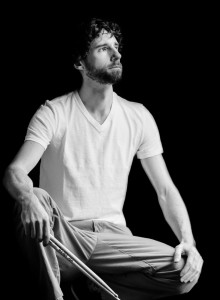 Vincent Pierce Smith is a multi instrumentalist, teacher, recording engineer, and composer born in New Jersey, USA.  He received his bachelor degree in music at Rutgers University. Vincent started playing Drum Set professionally at the age of 14 and has toured with different groups ever since. Vincent is a skilled dance accompanist and has played over one thousand Modern and African dance classes. He composes for Modern dance using both electronic and acoustic instruments. He is also an accompanist for the complex Kathak dance of North India and has studied and performed in India and America. He currently tours with the dance and percussion group, "Pradhanica".
Vincent studied Tabla for 13 years with Tabla Guru, Pandit Divyang Vakil and has applied his knowledge of North Indian Tabla Rhythms onto Drum Set and Cajon. In recent years, Vincent has focused on Cajon and has developed a unique style using Tabla technique. He also plays a full Schlagwerk Cajon Drum set.
Vincent's latest release is a full length instrumental album called, "The Transcendent State". The music features Hang and Halo drums, Tabla, Cajon, and synths and was recorded with Kartikeya Arul.
Teaching privately for over 13 years, Vincent has taught hundreds of students. He has teaching experience with various age groups and ability levels. He enjoys teaching and spreading musical knowledge by using multi cultural instruments and styles to encourage communication, understanding, and acceptance through the language of music.
Education
BA Music, Rutgers University, NJ
Taalim School of Indian Music, Edison, NJ
Rhythm Riders School in Ahmedabad, India
Teachers & Mentors
Pandit Divyang Vakil
Billy Martin (MMW)
Rushi Vakil
Kaumil Shah
Jin JoungJin Won
Sejal Kukadia
Loren Oppenheimer
Scott Martin
Pat Petrillo,
Tony Reedus
Ralph Peterson
Chris Brown
Jerome Jennings
Mike Lukshis
Tony D'Nicola
Performing Experience
6-Wire
Pradhanica
Al Chez and the Brothers of Funk (2017)
Brummy Brothers (2017)
AATMA Perfoming Arts (2015)
Taan (2012)
The Do Rights (2012)
Natural Breakdown (2002-2011)
Amber Blues (2002-2004)
Adam's Not Funny (1998-1999)
Rail 16 (1996-1998)
Rusted Root
Billy Martin
Girish
SRI Kirtan
Guru Ganesha
Sharon Silverstein
WAH
Consider the Source
Mike Montrey Band
One Eyed Jack
Rutgers Glee Club
Monmouth County Orchestra
Mason Gross Jazz Band
Mason Gross Dance Classes
Mason Gross African Ensemble
Dance Plus, Rutgers
Carnegie Hall
NJPAC
Kennedy Center for the Performing arts
Riverside Theater, Milwaukee
Lisner Auditorium, DC
World Cafe Live, PA
Cutting Room, NYC
BB Kings, NYC
Summer concert Series – Hudson River NYC
Princeton Festival, McCarter Theater
Mountain Jam, NY
Earth Dance, CA
Dreamtime Festival, CO
Fox Theater, CO
Fairfield Theater Company
Rockwood Music Hall, NYC
NAMM Show – Demos for Schlagwerk
Gear Fest – Sweetwater.com – Demos for Schlagwerk
Tabla Performances in India and US
Weddings and Events
Radio performances
WKCR 89.9
WDHA 105.5
Teaching Experience
Westminster Conservatory, Princeton, NJ
Rider University, NJ
Governors School for the Arts, VA
Music Tech, South brunswick, NJ
Taalim School of Indian Music, Edison, NJ
Mason Gross Dance Department, Rutgers
Mason Gross Extension Division, Rutgers
Christine Music Academy, Edison, NJ
Lou Rose Music, Edison, NJ
Academy of Music, East Brunswick, NJ
Clinics at PAC
Private Students
Composing & Recording Experience
"Soundscapes" Written and performed live for Mason Gross Dance Plus, December, 2007
"Antigone" Score composed, recorded, and performed for Mason Gross Theater Department, 2008
"Desire" Score composed for, "Enter" choreography by Kim Gibilisco for Dance Plus Fall, 2013
"Glitch" Score composed with Nimisha Mahiyaria – Junior Dance Concert Mason Gross 2015
"Dance is a moving painting" Score composed for Nimisha Mahiyaria – Senior Dance solo at Mason Gross 2015
"A slice of Life" Film score for Chien-Ying Wang 2016
"The Transcendent State" Turiya, 2013
"Milked" Adams Not Funny, 1999
"All The Paths" 2009 Natural Breakdown – Natty B Records
"Inside The One" 2007 Natural Breakdown – Natty B Records
Kathak Dance Pieces Recorded for Jin Won and Pradhanica
Sound and lighting Technician for Nicolas Music Center, Mason Gross
Sound assistant at Music Together, Princeton, NJ
Musical Profile
Rock, Jazz, Latin, Funk, and Fusion.
African: Djembe, bells
Indian: Tabla, Nal, Cajon, Drum set
Latin: Congas, Bongos, Timbales, Cajon, Drum set
Frame Drum, Steel Drum, Snare Drum, Piano
Electronic music – Ableton, Maschine, Moog Analog Synths
Endorser For
Schlagwerk Percussion, Germany
Regal Tip, USA, NY
Torres Cajon Mic Systems
TRX